Custom tube work
We bend 4130 Crommolly tubes with the following sizes:
3/4"   x 0.058" - 0.134"
7/8"   x 0.058" - 0.134"
1"     x 0.058" - 0.134"
1-1/8" x 0.065" - 0.134"
1-1/4" x 0.065" - 0.134"
1-1/2" x 0.065" - 0.134"
1-5/8" x 0.083" - 0.134"
We have bent several steel tubes in many sizes (inch or mm) without any problems.
We also notch tubes with the following diameters:
7/8"
1"
1-1/8"
1-1/4"
1-3/8"
1-1/2"
1-5/8"
Repairs / Construction
Our chassie jig is 6 meters long and 1.8 meters wide.
Welding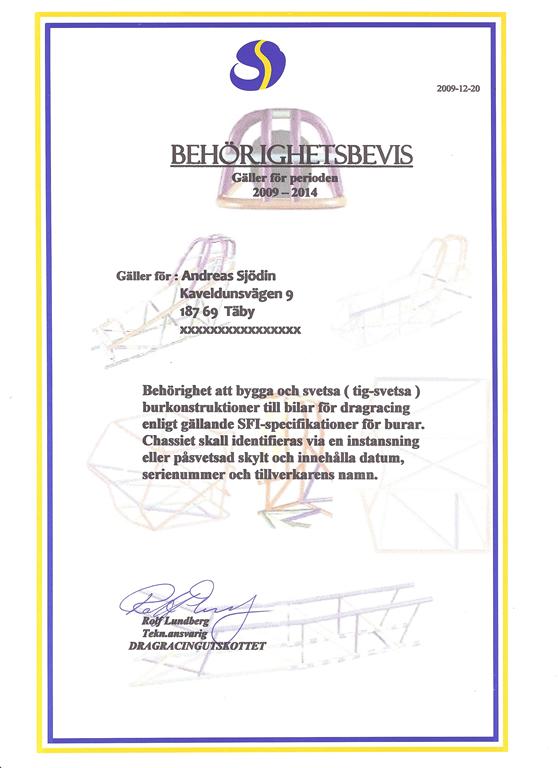 We are certified for constructing and repairing (TIG welding) 4130 crommolly constructions for drag racing in accordance with SFI specs.
Sales etc
We have the most common sizes of crommolly tubing in stock. We also carry all the necessary race-car accessories, like Dzus mounts, welding bungs etc.
Import
What we dont have in stock we order for you. Everything from complete engines to small details. We have a huge network of the right people in the American racing scene.
Give us a call or send us a mail and tell us what you need and we'll take care of it.
For pricing and information, please contact us!
Need race car parts?
Sjödin Motorsport, Your Vanishing Point Race Cars dealer in Sweden!


Located in USA, the staff at Vanishing Point Race Cars has over 25 years of experience in building all kinds of racecars with Jim Geese as the lead designer/Builder/Manager.
And will be selling their drag racing vehicles worldwide.
New ventures include blower & turbo-specific chassis and lightweight titanium parts & components. Watch for their new catalog and product listing on www.vp-racecars.com.
We have a lot of small parts like welding tabs, dzus fasteners, rod ends and tube adapters in stock, and we can help you order anything you want from them.
The parts we order are delivered within 2-7 days to us depending on choosen shipping method (And as long as the parts are available in the U.S.).
Don't gamble with your safety!

Sjödin Motorsport, Your Butler Built dealer in Europe!
Safety! There is no limits when it comes to that in drag racing!
Sjödin Motorsport are now dealer in Europe for Butler Built Pro Seat Systems.
First of all for the drag racing safety area like helmet pads (lateral head supports) and the seat insert kits, but of course if someone needs anything else that they are selling we can help you get it. Go to www.butlerbuilt.net to find out what we can help you get! Right now we got the large E-Z SERT POUR-IN-PLACE Urethane kits, easy to use complete with instructions, and you don't need any special tools to get this kit in your car, you don't need a vacuum pump to this kit. Interested?
To order parts or if you got any questions about parts or work on you car, contact us at andreas@sjodinmotorsport.com or call +46(0)70 419 54 54